Cow
-
Back to the Matchstick Puzzles
This cow has the following parts: head, body, horns, legs and tail. It is looking to the left. Move two matches so that it is looking to the right.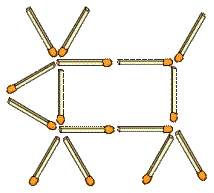 This old topic is locked since it was answered many times. You can check solution in the Spoiler below.
Pls visit New Puzzles section to see always fresh brain teasers.