Alex hadn't been seen for a week. And things just weren't
the same at Morty's. Jamie said it was cuz he'd lost his
last three bets to the geniuses over at
Brainden
. But Davey
opined Alex was not a sore loser. He'll be back, he said.
And it was no sooner said than Alex appeared at the door.
All smiles. And with a strange looking board under his arm.
Take a look, mates
, he said, and laid it on the table: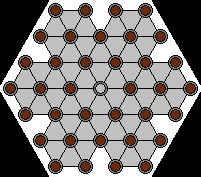 What you see here is Alex's new version of the old solitaire
game that you play with pegs. There's one empty hole right
there in the center, and 36 other holes each with a peg.
You jump pegs over neighbors into empty holes,
straight ahead
,
along the lines ya see there, and remove the pegs that are
jumped. When ya can't make any more jumps, the game is over.
And if there's only one peg left, you've won.
Now who'll take my bet that none of ya is smart enough
to win? The last peg doesn't have to be in the center
hole, mind ya, but there can be only one peg standing
at the end.
Go ahead. Try a few games to get the idea. Then think it
over. If ya take the bet, you've got until Friday to write
down a winning game.
I'd advise against it, he winked. Cuz if you try and lose, then
I get free drinks till Christmas. Ya might be better off just
passing it on to the Brainden crowd.

Any takers here?
Number the holes like this.
--------1 2 3 4
-------5
6
7 8 9
---10 11
12
13 14 15
16 17 18 [
19
] 20 21 22
---23 24 25 26 27 28
-----29 30 31 32 33
------34 35 36 37
and write moves like this:
[1] - 6 [12] 19
- [that means: move #1 - peg 6 jumps and removes peg 12 and lands in hole 19]
[2] - .......
etc. 35 total jumps and you win.
Sign up now if ya want to try, then post yer solution by Friday.
Edit:
Take a hint from Alex's wink:
Prove that the game can be won. Or not.