Inspired by When the Seagulls Cry (Umineko no Naku Koro ni)
The difficulty of this chapter is Slightly Taxing. Would you care to guess?
The story so far...
The proprietor of a museum of riddles and mysteries intends to bequeath his entire collection to whoever can best his final challenge. Tonight, the members of this exclusive club have gathered to compete for this prize.Upon arrival, these guests received sheets of paper giving a set of rules for fair riddling,

The Sphinx's Decalogue

. On these pages were clues to open a safe and prove their worthiness to enter the Club. The first to solve this safe was... * Ocean Zweidler, an author of mysteries, who guessed similarly to some of the cleverer posters in the thread. The line below this one is a lie.* L. V. Ford-Seaton, a child of wealth. Nobody in the thread could have anticipated his answers. The line above this one is a lie.Regardless of who solved it first, both were admitted entry, as both sets of answers were

reasonably derived from the information available to them as individuals.

Now, a new page begins. What will our guests find written in the foyer?
Without hope, the truth cannot be found.
(Note: It's not necessary to read the first thread to catch up, but these three posts contain relevant information and puzzles:
Introduction: http://brainden.com/forum/index.php/topic/14878-the-witchs-epigraph-prologue-safe-1/page__st__0
Suspect #1, Ocean: http://brainden.com/...post__p__312523
Suspect #2, L.V.: http://brainden.com/...post__p__313047)
=============================================================================================================
Chapter 1: The Room of Six Locks
or, The Courtship of the Sapphire Witch
Young Matthew Ford - no relation to the car-maker - was a Wall Street alchemist. He could turn lead into gold, and not only that, he could turn tin into silver, iron into copper, and, judging by the fortune he made in semiconductor commodities trading, silicon into gallium. But he was reckless and wild, winning and losing fortunes on a throw of the dice, until the evening he met the Sapphire Witch.At the time, she bore a different name. No matter; her magic remained unchanged. Although she was a geneticist in her human life, she knew powerful conjurations and transfigurations, which she taught to Ford in their years of marriage.Nowadays, it is generally considered impolite to remind Mr. Ford that his wife has passed away. As far as he is concerned, she is alive and well, and wanders the secret passages of his museum every night.
---
The guests found this page - the very page you are reading - in the foyer. Though normally spacious, boasting tall windows and a grand 39-step staircase, the foyer was cluttered tonight with trunks, tables, and shelves. Amid this paraphernalia, many of the Club's staff had gathered to present themselves and play their assigned roles.
"Ladies, gentlemen, I don't mean to alarm you, but there was supposed to have been a signet ring in that first safe," said Lana Rodriguez, the Club librarian, stepping away from a set of bookshelves that held the proprietor's favorite novels. "It had a big sapphire in it… not easy to miss. I'm afraid that either whoever opened it just now palmed the ring, or somebody broke in early. Bill, anything on the safe's records?"
"Sorry 'bout the bad news, but I just checked. Looks like someone got in five minutes before we opened." said Bill Jackson, the club's resident tech wizard. He slouched back against a table that carried a model train set.
"My God," said Samuel, the doorman, raising his eyes from a box of vintage 45 records. "I stepped away to shut off the fire alarm! Anyone could've arrived early and opened it!"
Margaret Ye, the proprietor's attorney, pushed aside the trunk of toys she was assigned to watch over. "Our security guards just locked down the building. Nobody will enter, nobody will leave. Not before we find our culprit."
The guests protested, but all of the staff had solid alibis. And if they eliminated the eight staff members as suspects... well, there wasn't nearly enough information to figure out who had done it just yet, but perhaps, as the evening wore on, the culprit would slip up. "Maybe it was the Witch!" joked L. V., only to receive angry glares from several of the staff, and, in particular, from a young boy at Mrs. Ye's side.
"
You'll regret saying that,
" said the boy.
"The Witch is real. She's gonna take us all to El Dorado."
"Cut it out, Mark." hissed Margaret. "Do I have to send you home?" Then, noticing that the others were staring, she said, "What? Mr. Jackson! Give them the damn riddle!"
Mr. Jackson shook his head and pointed to a tall mahogany cabinet leaning against the wall and bearing an ostentatious lockplate in the shape of a winged man. "Safe's in here," said Jackson. "But the key's somewhere else in this room. Here's your clue."
He showed the guests what looked like a crude handicraft made in summer camp, a string of little ornaments. "Some of these are rusted, but you should ignore any oxidation. In fact, you'd better ignore any minor ingredients in these things!" Jackson added, making sure each guest saw it fully. "Start from the end with the sinker. Be careful; it's got sentimental value."
The ornaments were made from glass beads, old fishing sinkers, loops of lead-free solder, and steel rings, and were arranged as follows:
Sinker, Glass, Glass, Solder, Steel, Sinker, Glass, Sinker, Glass
Racing to make sense of this clue, the guests rummaged through the room for the hidden key. Some dug through the bookshelves for reference materials, while others used their smartphones to access the Internet..
At last, a clever guest found the key hidden inside a small object, which I shall leave for you to guess. But when they opened the cabinet, the safe confronted them with yet another challenge -
a combination lock that bore a compass rose around its dial, rather than numbers
, and a sheet of paper bearing the following maze of arrows.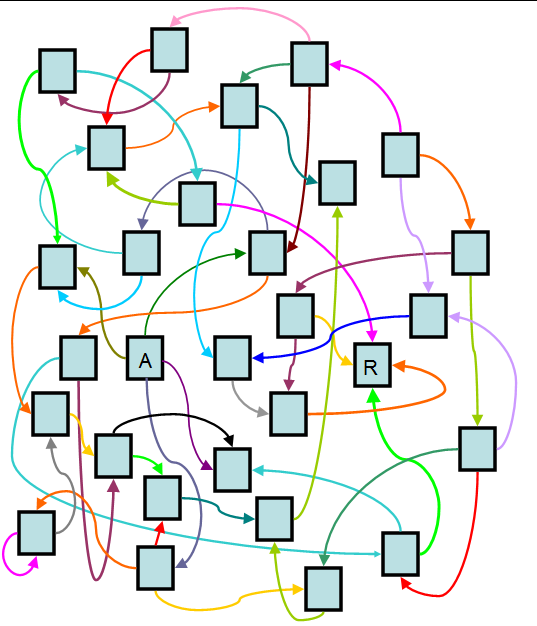 And this is far from the last of this room's riddles.
Give up! If you give up, surely someone else will guess it for you!
Stop thinking! Go find a game where there is one "answer" to every problem!
STOP! Leave this place, and my secrets will be safe.
Signed,
The Witch of Doubt
Edited by WitchOfDoubt, 31 December 2011 - 12:49 AM.